. What is Rising Damp?
. How Is Rising Damp Caused?
. How to Identify Rising Damp?
. How to Identify Rising Damp?
. What is the cost of a Rising Damp Treatment?
. What Happens If Rising Damp Is Left Untreated?
. Need the assistance of a Rising Damp Specialist?
. Penetrating Damp

. What is dry rot

. What is ret rot

. What is woodworm?

. What is condensation?

. Health Problems Associated
with Condensation
The scientific term for rising damp is called capillary action. In simplistic terms, surface tension forces water from the ground up through the capillaries and pores of walls and building structures.

Rising damp is the common term for this migration of water rising up from the ground through the walls of a building or property by capillary attraction.
This rising water carries with it certain salts which are deposited into the wall. Other building materials that are near to the affected wall, such as skirting boards, joists and plasterwork will also absorb the moisture from the ground. This can result in problems such as wood rot, fungal decay and woodworm.
It is a particular problem in older buildings where the damp proof course (DPC) has become damaged or when the ground level around the house has been raised by the addition of paths or driveways etc
Dampness in the property is not necessarily caused by rising damp as there may be another source of water that you are unaware of causing the issue. Therefore, it is important to contact a fully qualified Damp and Timber Surveyor so a full rising damp inspection and moisture profile can be created so a correct treatment can be carried out.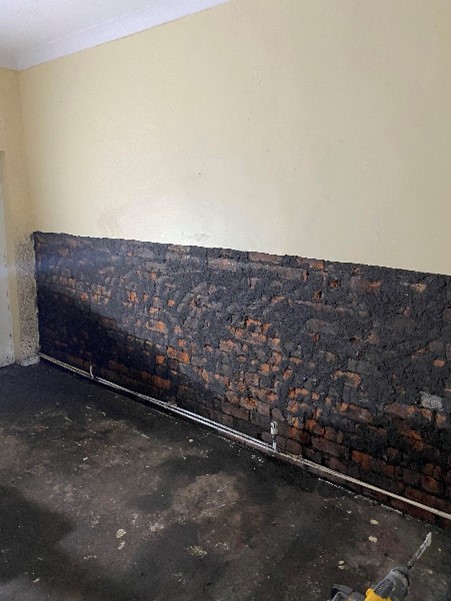 How Is Rising Damp Caused?
If your property is not protected by a rising damp barrier (otherwise known as a damp proof course or DPC) then rising damp is more than likely going to occur and affect your property at some stage.
Rising damp occurs by moisture rising from the ground via a process called capillary action. This moisture in most cases will only reach a certain height which is approximately 1 meter.
Salt deposits may be found higher in the wall, because of the use of damp stop paints, vinyl wallpapers and incorrectly applied tanking systems.
This ground water contains soluble salts, which deposit on the interior walls of the property. In turn, these salts absorb moisture from the atmosphere giving a permanently damp feeling to the wall. This in turn can have many unpleasant side effects, from a bad odour, decorating and wall deterioration to an inflated heating bill. 
How to Identify Rising Damp?
There are certain checks that can be made by yourself before the assistance of a damp surveyor.
Common signs for spotting rising damp include the following: –
Horizontal discoloured stains visible approximately up to and around 1 meter in height on internal walls. These are known as 'Tide Marks'.

Plaster will erode and peel away from the interior walls suffering from rising damp.

Skirting boards will become brittle and eventually show signs of deterioration.

Walls in some areas will feel damp to the touch.
If your still unsure on identifying the signs of rising damp, then get in touch with Hamilton Damp and Timber where our expert team of surveyors can provide you with the right treatments to eradicate any damp problems you may have. Call 07711 701779 or request a survey online.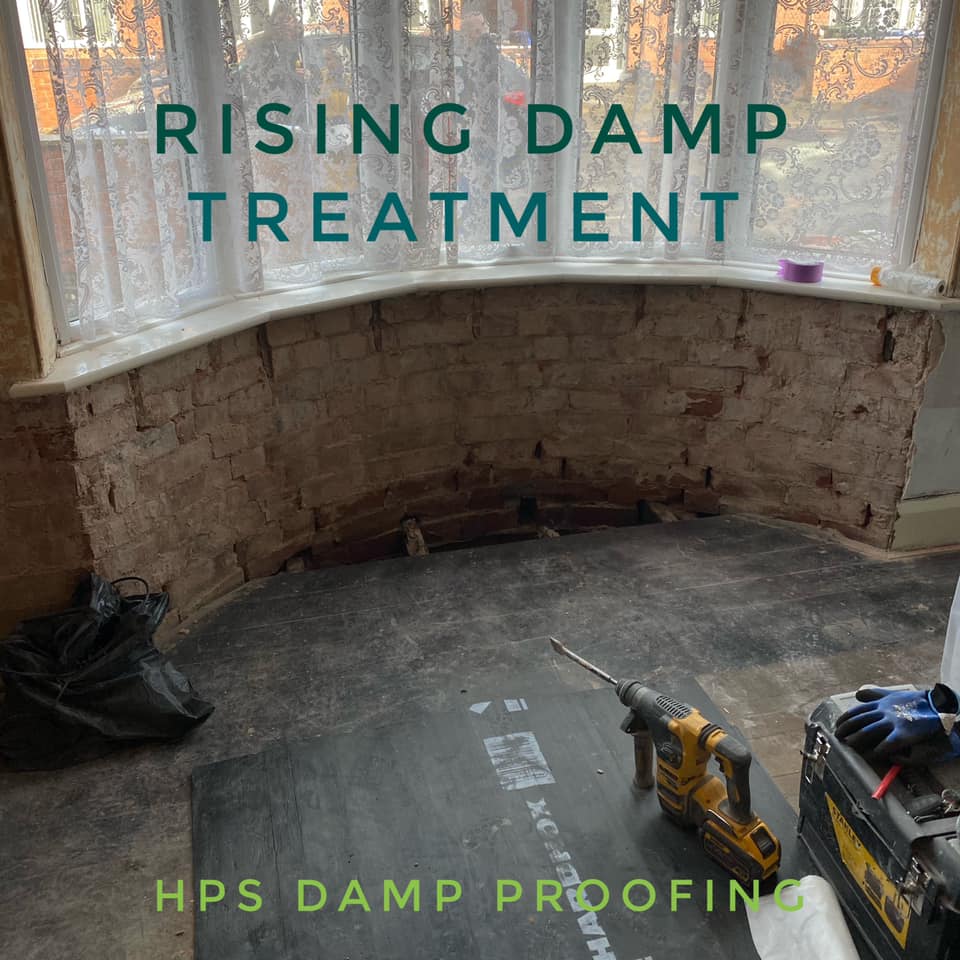 Any form of rising damp must be stopped at the source to be sure that the damp problem is fully rectified. Carrying out quick fixes like damp seal etc will only cover up the issue for a short period and therefore make it more expensive for you to solve in the long term.
To rectify Rising Damp there are three procedures to eradicating the problem. The main solution for treating rising damp at your property is the installation of a chemical damp proof course, this stops any further moisture from rising into your walls. Secondly the contaminated plaster needs to be removed and the exposed walls treated for further salt migration. Thirdly once these steps have been taken care of there is the matter of a replastering system to stop any drying and evaporating salts and moisture from conducting to the surface.
For a professional rising damp treatment service, Hamilton Damp and Timber will provide an experienced surveyor who will visit your property and outline the potential damp proofing treatments and costs.
What is the cost of a Rising Damp Treatment?
"How much does rising damp cost to treat?" This all depends on the Damp Proofing Specialist and the amount of remedial works they can do or will do. For example, some installers will not plaster or refit skirting boards etc where others may include all remedial works. The amount can therefore fluctuate between £65 and £200 per linear meter.
What Happens If Rising Damp Is Left Untreated?
If rising damp is left untreated then it can lead to serious issues with the structural integrity of your property. Without treatment, the rising damp problem will only worsen, and the cost of the damp proofing will only continue to rise.
Any decoration that you have added to your home, such as wallpapering and plastering, will deteriorate increasing the costs further. If you are in the process of selling your home a damp issue makes the process longer for you and can delay or holt a sale.
Need the assistance of a Rising Damp Specialist?
Rising damp is an extremely common problem, but it is not a problem at all for our rising damp experts. From the initial tell tales signs of damp patches and stains and tide marks that appear on the walls to the salts forming on the brickwork. Hamilton Damp and Timber can help to identify and help solve your rising damp problem.
With years of experience in the remedial works and installation of damp proof courses and having eradicated rising damp problems in properties across Yorkshire, you can trust Hamilton Damp and Timber to carry out a thorough, professional, conscientious, and detailed Rising Damp Survey to help solve your Rising Damp problem for good.
If you suspect rising damp may be occurring in your property, then call 07711 701779 where we will be able to help with any damp problems that you may have.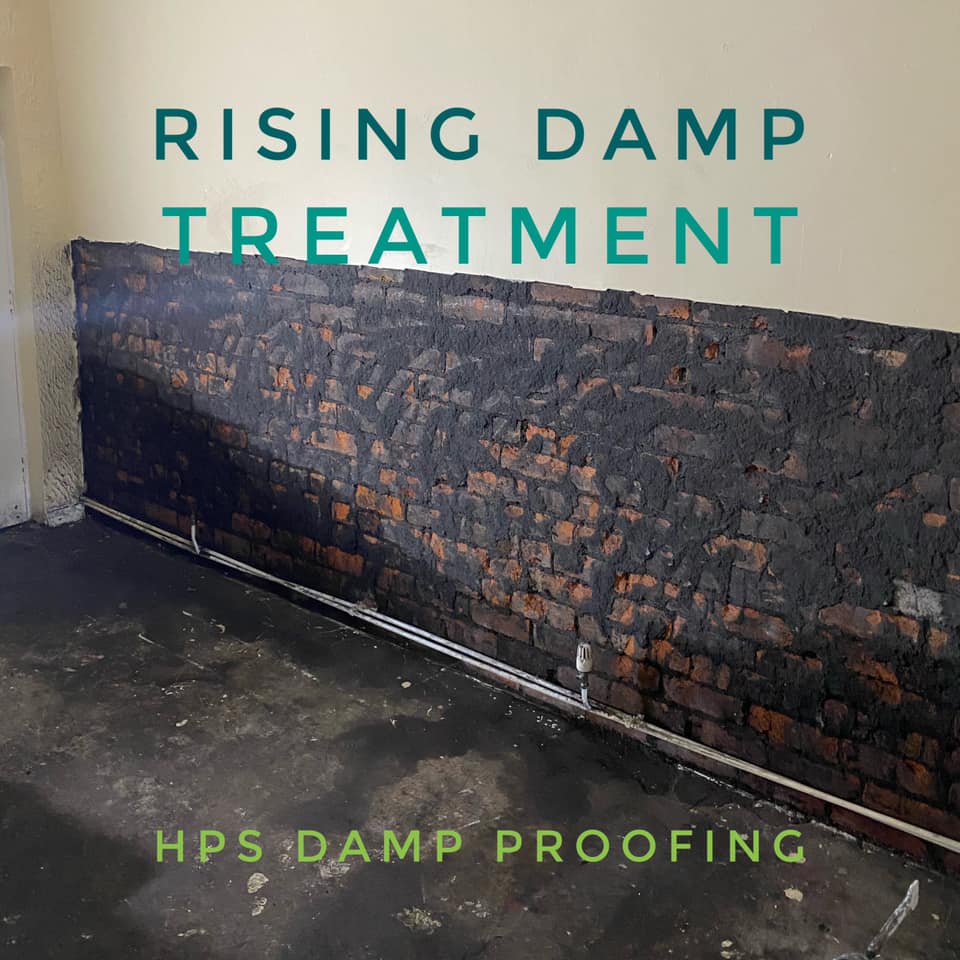 What is Penetrating Damp?
Penetrating damp is the process of moisture being built up horizontally through the external walls of the building into the property.
Often misdiagnosed as rising damp, penetrating damp can lead to further, more serious issues such as wood rot, mould, increased heat loss, frost damage into masonry and unsightly water damage on both the outside and inside of a property.
Penetrating damp can affect any type of property however, old properties that have had no or little property maintenance are more prone to water penetration. Modern properties can also suffer from penetrating dampness if the design and workmanship of the property have defected then these can also suffer from having damp in walls.
What are the Causes of Penetrating Damp?
Penetrating damp is essentially water ingress that has found its way through the walls of a structure because of external defects. Defects come in various forms such as damaged rainwater goods (for example blocked gutters, or broken downpipes etc) defective pointing, porous masonry, a faulty roof fabric or cracked and damaged render.
When it rains, rainwater usually evaporates out of the brick / stonework. However, in certain circumstances, such as periods of heavy rainfall or when the property suffers from an external defect (as mentioned above), the moisture fails to evaporate and can pass through to the inner surface.
How To Identify Penetrating Damp?
Fortunately, there are indicators which make identifying penetrating damp relatively easily. You should look out for: – the presence of a damp and musty smell and such things as Mould growth appearing on internal walls.
Can Penetrating Damp Cause Health Risks?
If the penetrating damp problem is sorted in an efficient amount of time, then you should not worry about the health effects of penetrating damp. As described earlier the main signs of penetrating damp are a musty smell and stains on the walls which, although they look unpleasant, are not a health risk.
Living with damp conditions is not ideal and damp problems should be sorted out as soon as possible. If you are suffering from severe penetrating damp problems then this can also lead to condensation issues occurring, this can then lead to mould growth which does have health risks by leading to such things as dust mites etc.
How to Treat Penetrating Damp?
The most important step in penetrating damp treatment is establishing and rectifying the source of moisture/ water ingress. It is more than likely that the cause of penetrating damp is down to property issues. Some potential areas of water ingress that can cause penetrating damp in a property are things such as: – Defective pointing, Porous Brickwork, Cracked Render or any external layer and Defective Guttering etc
The external walls, masonry, render etc of a property must be kept in good condition and any issues identified and potential problems rectified to prevent the masonry from becoming saturated. As any defective areas can lead to Penetrating Damp. Once the cause has been accurately identified by one of our Qualified Damp and Timber Surveyors a complete plan of action and list of proposed works will be written up so that any specialist of your choice can easily follow them.
How is a Penetrating Damp Survey Carried Out?
It is important to have a specialist to provide a damp survey on your property for any penetrating damp issues you may have. Hamilton Damp and Timber have surveyors who are fully qualified by the Property Care Association. Our surveyors are CSDB and CSTDB qualified meaning they are highly trained in providing solutions to all forms of damp issues that could be affecting your property.
Once the damp inspection has been carried out by the surveyor, they will provide a report on all the damp problems that were found during the survey. This will detail the causes of the issue and the treatments that are needed to rectify the penetrating damp problem.
Contact our Penetrating Damp Specialists
It is important that penetrating damp is identified as soon as possible to ensure that the property structurally is not severally damaged, call our penetrating damp specialists today on 07711 701779 to ensure you receive the right penetrating damp advice and solutions for property.
What is Dry Rot?
Dry rot is a term used to describe a specific and unique type of wood rot (Serpula Lacrymans). However, despite its common name it will generally only attack damp timber.
Dry rot is a serious problem across properties in the United Kingdom. For an infestation to initiate there needs to be a spore (or some growth that is already present), oxygen, a suitable temperature, a susceptible food source and water, all of which are to be found in buildings.
How Dry Rot Affects Your Property
Dry rot can affect all kinds of timber from old or new, from domestic to commercial properties. If the dry rot problem is not identified and treated promptly then it can become a serious danger to you and your home.
If you suspect you have dry rot, then the best solution is to book a dry rot survey immediately through Hamilton Damp and Timber. We have years of experience in providing treatments for dry rot and you can be assured that with our specialist CSTDB timber surveyors your property is in safe caring hands.
Sometimes, finding out that there is actually a dry rot problem is the hardest part of the dry rot treatment process. Once dry rot has been identified within the property help is at hand, Hamilton Damp and Timber will be able to alleviate any stress or concern you may have by providing the correct procedures in eradicating this serious fungal decay.
What Causes Dry Rot?
Dry rot occurs where the timber is damp, and the affecting damp has a moisture content that is approximately 28% mc. There are many reasons why the timber in your property can become damp (such as rising or penetrating dampness).
By themselves, these dry rot spores are harmless; however, when the spores come into contact with wet timber, they can germinate, reducing the wood to an unsound structural state. The fine fungal thread (hypha) digests the cellulose and hemicellulose fraction of the wood turning the wood brown and ultimately reducing the timber to a dry, cracking, and crumbly state.
Before any remedial treatments can be made to treat dry rot the damp issues must first be located, identified and solved. The reason for this is that dry rot treatments will become ineffective if the timber becomes damp again the dry rot is likely to re initiate.
Get in Touch with Our Dry Rot Specialists
Hamilton Damp and Timber fully understand that it is imperative that all areas of moisture ingress and dampness are identified. As timbers within these specific areas will be at risk from wood rot, fungal decay and woodworm infestation developing if such timbers are not fully protected from either the moisture or the rot itself.
If you are concerned about the possibility of a dry rot or any fungal decay outbreak in your property, do not hesitate to give our team of dry rot specialists a call on 07711 701779. By having a dry rot survey through Hamilton Damp and Timber we will be able to identify the full extent of the problem and determine whether further dry rot treatments are necessary.
What is Wet Rot?
Wet rot is a fungal decay of timber caused by excessive high moisture.
Wet rot is a general term that is often used to describe various fungal decays and different species that are responsible for wet rot. There are thousands of species of wet rot but only a handful have adapted themselves to be able to grow in properties. These fungi get their food by breaking down the walls of wood cells. Over time this leads to a loss in the structural strength of the timber.
Any timber that is exposed to excess moisture will become an ideal breeding ground for wet rot. This excess moisture that leads to this fungal decay can be due to different reasons. For example, it could be from a leaky roof, burst pipes in your home, a leaking bath or a washing machine that has not been installed incorrectly. The reasons for excess moisture in your home are endless, but the result is the same. If your timbers have been exposed to damp for a length of time, the outcome is likely to be a form of wet rot, and this needs to be identified and treated immediately.
While wet rot is commonly confused with dry rot; they are quite different and need to be treated in different ways. While wet rot is not as destructive as dry rot if left and not treated it can lead to serious structural damage to your building also.
What Causes Wet Rot?
As the name wet rot suggests, wet rot affects wood that is wet. Wet rot is commonly found in timbers that have become damp due to excess moisture. Wet rot can occur anywhere where there is water ingress in a property and the water has been in long-term contact with the timber.
However, the most common ways in which wet rot is caused are as follows; –
Broken/ leaking water pipes.

A leaking roof, damaged hoppers, and guttering.

Defective seals on baths and showers.

Dishwashers and washing machines etc that are incorrectly or badly plumbed in.
It is important that the root cause of wet rot is found so the issue will not persist in the future after the wet rot and timber has been treated. If the root cause of the wet rot is not found and new timbers are installed, the same issue could recur again and again.
We would recommend calling in one of our Hamilton Damp and Timber wet rot specialists. We know what to look out for when it comes to wet rot and we can quickly find the root cause, the extent of the damage and the correct procedures in eradicating these destructive fungal decays.
How to Identify Wet Rot
If you notice any of the following symptoms, then we highly recommend that you call one of our wet rot specialists so they can complete an examination for you and catch wet rot at the earlier stages of the problem before it causes any larger structural damage to your property.
Check your timber for any localised fungus growing on it.

If your timber has been affected by wet rot then it will feel soft and spongy so touch and prod it with a screwdriver etc. Even through a coat of paint the timber will feel soft, or you may notice it looks darker than timber that surrounds it.

When the timber is dry it will crack and crumble easily. Once again, poke the timber and check if it crumbles off into tiny particles.




4. You may notice that the wood has bleached around doors and window frames; this is another way you can identify wet rot in your property.

Look at your paintwork. If the paint is damaged or flaky this could be wet rot. Take a thin bladed knife and push it into the painted timber. The knife should stop after a short distance, but if it goes in up to the handle this is a sure sign of wet rot on your wood, behind your paint.

You may notice a damp and musty smell in your property. Again, this would be a tell-tale sign of wet rot and a way that you can identify wet rot in your home.
If you have identified potential wet rot in one or more of the ways above, we would highly recommend you call in one of our wet rot specialists. They will quickly confirm if you have wet rot in your property and recommend the next cause of action.
Does Wet Rot Spread?
Unlike dry rot, wet rot can stay localised to the source of moisture ingress. However, this does not mean it can be left untreated as that can result in serious structural damage to your property. Wet rot does not spread through the masonry. The wet rot growth will cease when the moisture is removed. This is why it is essential that when treating wet rot, the root cause is also found and fixed.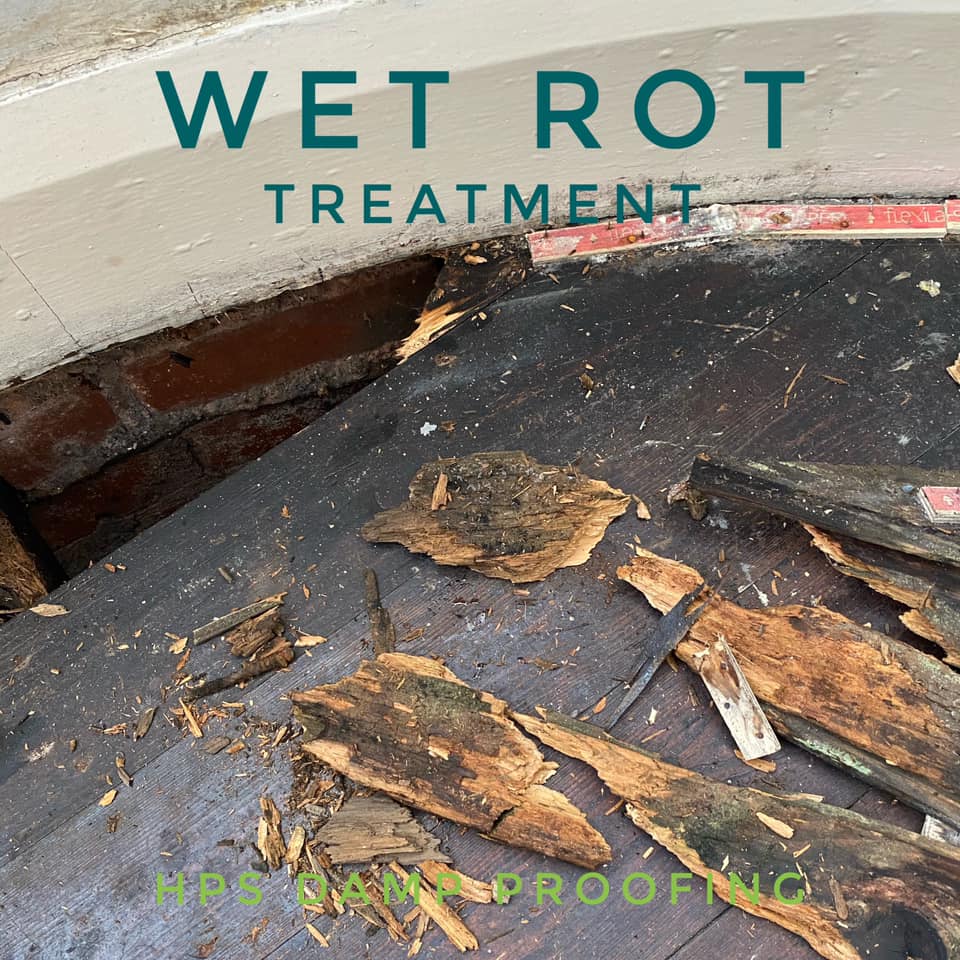 Can Wet Rot Be Treated Yourself?
Here at Hamilton Damp and Timber we would recommend that you get one of our professional wet rot experts to assess and draw up a complete plan of attack with any wet rot issues. This is because it is not only the wet rot that needs to be treated, but the root cause of the moisture ingress needs to be found and stopped too.
While many enthusiastic DIYers often feel like they can take on the world, we would not recommend it when it comes to wet rot. This can be a very time-consuming job for someone that does not have the experience or tools for the job. It can also cause serious and dangerous structural damage to a property if the wet rot is not handled fully or correctly.
If you find wet rot in your property, we would highly recommend a professional treats your wet rot as it can easily compromise the structural integrity of your home.
In some cases, it will be possible to salvage the timber around the wet rot. This means you could splice new timber onto old timber, especially if it is only a small area that is affected.
However, it is essential that all new and surrounding wood is treated with a good quality preservative. This will reduce the possibility of fungal re-growth.
If you feel that this may be beyond your DIY skills or you do not have experience in this area, again, we recommend you call in one of our wet rot specialists for the safety of yourself and your property.
What Is The Cost Of Wet Rot Treatment?
Each property with a wet rot issue can be different as there are so many different species. This means different levels of wet rot remedial works and treatments are required. Using our expert wet rot surveyors ensures you get the correct diagnosis and proposed works to eradicate the decay. This is because all our Hamilton Damp and Timber Surveyors are expert remedial trades people and personally have hands on dealt with and eradicated hundreds of fungal decay issues. You are indeed in safe professional, time served hands with any of our highly skilled and qualified surveyors.
If you have any questions or concerns about wet rot in your home, or wet rot treatments then please contact our friendly team at Hamilton Damp and Timber on 07711 701779.
Remember, the longer you leave a wet rot problem in your property, the bigger the issue will be as more structural damage will be caused. So, get in touch with us now.
What is Woodworm?
Woodworm is the generic term for the different species of wood-boring beetles/ insects. The infestation starts by their eggs which are laid in crevices and open joints in the wood in such timbers as joists, rafters, beams, floorboards, and furniture.
The eggs hatch into larvae that burrow into the wood feeding on cellulose, some species of woodworm can live up to nine years, causing destructive and extensive damage to your timbers.
What are the Different Types of Woodworm?
There are a number of different wood-boring beetles. The one that you have can dictate the type and extent of your problem. For example, wood boring beetles in house timbers can create greater destruction than woodworm in furniture.
Up to the meta-morphosis stage where the beetle will bore its way out of the wood leaving an exit hole to fly off and lay more eggs in fresh wood, it may have been eating away unbeknown to yourself for between three to nine years.
This life cycle of a typical wood-boring insect is almost always near completion before most property owners are even aware they have a problem.
How is Woodworm Treated?
At Hamilton Damp and Timber, we are wood-boring insect specialists. All our surveyors are highly skilled and carry the highest qualification you can achieve which is the Property Care Association CSTDB. We are proud members of the Property Care Association and this is the level of experience you need to ensure you get the right diagnosis and procedure to be able to eradicate these destructive infestations.
Firstly, we will identify and establish the extent of the infestation and damage. Our fully trained and qualified surveyor specialising in remedial treatments will examine your property. You will need a thorough timber and woodworm survey to ensure treatment is necessary in the first place.
Once woodworm is confirmed, our surveyor will:
Identify the type of beetle and the extent of the infestation

Establish if the woodworm is active and which stage of its life cycle it is in

Specify a treatment for your property and proposed list of works

Identify any other repairs needed (e.g. for fungal decay or damp)
Our surveyor will then write up a full list of proposed works that any specialist can follow to eradicate the infestation and timber issue.
What is the cost of Woodworm Treatment?
To provide you with an accurate quotation, our woodworm specialist CSTDB surveyors will need to carry out a full inspection to determine the best treatment for the property. All our surveyors have had extensive first-hand experience in treating all types of infestation and timber problems so rest assured the quotation and list of proposed works will be completely accurate in both cost and remedial work involved.
The cost of the treatment can depend on the damage caused by the wood-boring insect and the size of the infestation.
Get In Touch With Our Woodworm Treatment Specialists
If you are having problems with any type of woodworm infestation, we always recommend that you should contact a Hamilton Damp and Timber specialist. Woodworm can cause significant damage if left untreated for a long period of time.
What is Condensation?
Condensation is basically when the moisture vapour in the air can no longer hold any more moisture and as this moisture touches a cold surface it condenses and turns into water. This water can be seen on cold surfaces such as on windows, windowsills, or cold spots on your walls.
Condensation is one of the most common forms of dampness found in buildings and can lead to all manner of problems from peeling wallpapers through to unhealthy living conditions and mould growth issues.
The reason that problems with condensation are on the increase is because of increased standards of insulation, double glazing and draught proofing making properties more airtight and resulting in moisture laden air staying within the property.
What Causes Condensation?
Warm air can hold more water vapour than cold air – the warmer the air the more water it can hold and conversely the cooler the air the less it can hold.
Thus, given this fact, it becomes evident that if warm moisture-laden air is cooled there will become a point at which the air is cooled to such a level it can no longer hold the moisture present, this is called dew point.
It is at this point that the excess moisture starts to change from vapour into a liquid and turns into surface moisture which we can see, this is what we call condensation.
Condensation is very much a seasonal problem, usually occurring from October to April. During the winter, ventilation within a property is typically low (due to windows and doors being closed to keep out the cold air etc).
This allows the build-up of moisture vapour in the house, which, in some cases, is sufficient to cause condensation.
The build-up of moisture vapour is also produced from our day-to-day living activities such as cooking with pan lids off, boiling the kettle, drying clothes on radiators, heaters, tumble driers, pets and taking baths and showers.
Condensation may go unnoticed until mould growth or damage to decorative finishes occurs.
Think of mould growth as a natural warning system telling you that the environment in the property is seriously unhealthy and toxic. At this stage we recommend getting in touch with our Atmospheric Moisture Expert Specializing in Condensation and Mould to assist you on controlling these issues.
Health Problems Associated with Condensation
Condensation by itself will not cause any harm but problems arise when it is left untreated or the cause unsolved and not rectified. If the cause of the condensation problem is therefore not stopped condensation will start to build up and will eventually create an environment that is an ideal breeding ground for mould growth to initiate.
Mould Is One of the Main Issue's
The main effects and problem arising from condensation is the growth of Mould. There are over 100,000 species of mould worldwide. Less than 100 are commonly reported in UK homes some of which are classed as so called "Toxic Moulds".
If Mould isn't treated properly, it can affect your health.
Proven health effects (almost all from agricultural/ occupational exposure) include:-
.Irritation of eyes, nose and throat
.Dermatitis
.Exacerbation of asthma
.Allergy(?)
.Aspergillosis
.Immuno-supressed individuals at risk)
Black mould is a known issue that can cause problems to your health especially to those people that are vulnerable such as those that already suffer from respiratory issues or the very young.
Other services we provide
We provide a whole range of surverys from damp and timber surveys to condensation and mould surverys.
01
Damp Survery
Damp and Timber Survey is the process of an investigation to check for the type and extent of dampness, timber or woodworm problems that could possibly be found before purchasing a property.
02
Mould Survey
Condensation and Mould Survey is to check for the cause, type and extent of Condensation and Mould problems that could possibly be found in your property.
03
Mould Eradication
Our Diagnostics help understand the Condensation and Atmospheric Moisture. Then our skilled Mould Eradication Unit will carry out the professional spraying, killing and removal of the Moulds using specialist products in the areas affected.
How can we help your damp problems?
Mould and Damp Specialists
What Are You Waiting for?
Let's Talk About Your Damp Issues